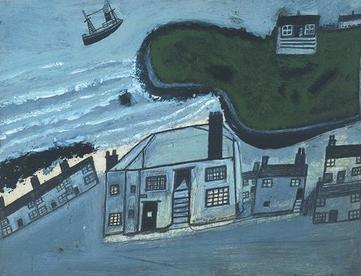 Staying with the sea side theme a little longer I have chosen a painting by Alfred Wallis, the painting is called The Hold House, Port Mear, Island Point, Mear Beach, St. Ives. The work of Wallis can be categorised as Naive. We see the main image is the Hold House, the cottages by the shore seem to be on a hill, the fishing boat is tipped up as though by a high wave, many waves head for the shore and the island of green is the peninsular, as though Wallis sees the scene from a hill top, yet we understand it completely.
Alfred Wallis was born in Devon where his father had found work, his parents were Cornish, following the death of his mother his father moved the family back to Penzance, Cornwall. Wallis began his painting career aged seventy, he said he was lonely after the death of his wife and his paintings kept him company. He had many stored memories of sailing ships which were being replaced by steam powered vessels, the sea was in his blood, I imagine a physically strong man with skin tanned by the sea and wind. He married Susan Ward when he was twenty, his wife was twice his age, he became step-father to her five children. Having spent his life living by and working on the sea he must have remembered many trips on deep-sea schooners fishing between Penzance and Newfoundland when serving in the Merchant Navy, he had a number of jobs, as a boy he made baskets, he joined the merchant navy in the 1870s, he changed to fishing locally and did labouring work until he became an assistant to an antique dealer where he learnt about objets d'art.
Wallis had no money to buy art materials, he often used cardboard from packing cases on which to paint and paints purchased from ship's candlers. For this painting he used the reverse of a board printed to advertise an exhibition held by the St. Ives Society of Arts at the Porthmeor Gallery. His palette was restricted to a few colours described as 'shiny blacks, fierce greys, strange whites, rich dark browns and the pungeant Cornish green.'
Wallis said he was expressing his experiences as he painted, for him they had embodied meaning, he knew the geography of St. Ives and the beach with its surf waves, they would have been high and powerful in the storms that hit that coast. He had never had an art lesson and when some years later famous artists went to live in St. Ives such as Ben Nicholson, who dicovered his work, Wallis's style did not change, more the other way round, his work inspired the artists who had set up an artist's colony in St. Ives, he carried on painting as before. Barbara Hepworth bought this painting before donating it to a gallery, it is now in the Tate. He destroyed much of his work, a great pity but the remainder is now more valuable, he was not concerned with perspective, he lifts his scenes up like a map, scale was not important either, images that were his main focus were painted larger. His work has been called deeply mystical, I am not sure it is for me but there is a sense of an emotional attachment to the area, he has a good sense of design, especially seen in sea views filled with many multi – sailed vessels. (images not licenced to be reproduced, but well worth finding online.)
Wallis wrote his work was 'something that has grown out of the Cornish seas and earth which will endure.' His lack of education did nothing to suppress his emotional attachment to his surroundings, sadly he died in poverty in Madron Workhouse, Penzance, believing that his neighbours were jealous of his non – existent wealth and the fact that he knew famous artists. Galleries in America, Australia, New Zealand and Britain own his work and countless private collectors.
Many fakes are also on the market.
Bernard Leach, the famous potter, created a gravestone to commerate his life which portrays Wallis as a tiny mariner at the foot of a huge lighthouse, much in the style of Wallis himself. His last home where he lived from 1890 at 3 Back Road West St. Ives has been restored, many paintings by him have been copied onto its walls, the house is available to rent as a holiday home, I wonder what he would make of that!
Image from wikipedia.