Recently I attended two job interviews in the course of the same week, but was shocked to discover subsequently that neither informed me of the outcome – so, of course, I just have to assume that I was unsuccessful. Of course, I don't really know why they failed to do so, but I can easily imagine the excuses: either it's "not policy", or the individuals expected to perform that role for the institution are "too busy". There seems to be such a huge gap between my experience of applying for a job, with my personal dignity being given such low priority once I was no longer likely to be of any use, and the attitudes of modern institutional culture, that this episode has encouraged me to think further about the whole business of people "being busy", their perceptions of time, and our expectations of communicative courtesy.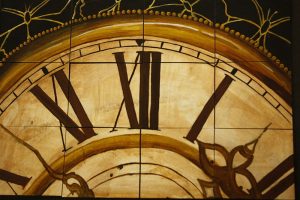 The idea of "being too busy" seems to be dependent on the idea of time as a commodity that we can have lots of or little of. If we're busy we "don't have enough" time, as if we'd taken out our time wallet to pay cash for the transaction and found only odd bits of small change in it. The idea of time as a commodity is a metaphor – one that has become an ingrained part of the operation of capitalist culture – but it's not the only possible way of looking at our relationship to time. Indeed, it's quite possible to absolutise that metaphor if we don't consider alternatives (which is where the Middle Way applies in relation to this issue).
So, when someone claims to be "too busy", it could be an indication that they're absolutizing an idea of time in support of an over-dominant and obsessive idea of their priorities. Perhaps they're just "pulling rank" – reminding you of the higher social status that is often bestowed on supposedly "busy" people because they already have so much social capital that they can afford to squander your goodwill. Or perhaps they are obsessed with certain priorities that you are not instrumental to, so being "too busy" just means that you are outside their limited view of their goals.
But there are also many cases for which this would be an uncharitable interpretation, because the metaphor of time as a commodity does not have to be absolute or obsessive – it could be merely used helpfully to provide a reasonable degree of structure to someone's life, and help them cope with their limitations. If we try to recognise people as embodied humans with limitations, then it is obvious that there are many things competing for their attention, and they have to prioritise that attention according to values that they find in their experience. So, them "being busy" may just be a way of maintaining a sense of integrity in the way they use their attention. For example, I know several writers who are bad at answering emails, and I suspect that this is because they give priority to maintaining a creative space in which they can focus on their work. I can respect that because it is a prioritisation made with awareness and a sense of integrity. More basically, people may just be busy meeting their everyday needs, doing a full-time job that is required to support their family. However, we also have to bear in mind in such cases that people are still making voluntary prioritisations when they choose, for example, to give over a large amount of their time and attention to a demanding full-time job in order to service an unnecessarily large mortgage or car payments.
The idea of "having time" for something also seems to be a substitution for other things we value. If we "give" something time out of a sense of duty, when we have a repressed desire to do something else instead, then it becomes increasingly stressful because we're having to use energy to hold down those conflicting desires. Giving time to something we don't feel we want to do then becomes "emotional work", whether or not it is actually "work" in the conventional sense. So you could be too busy, not only to inform a candidate for a job at your workplace that they have been unsuccessful, but also to read that blog recommended by a friend because it seems a bit abstract, or to phone your mother because she goes on so much about details you don't want to have to listen to. A need for "emotional relaxation" or "emotional space" could just be a helpful re-balancing, and we could be "too busy" just to look after ourselves and avoid undue stress. On the other hand, though, it is also possible to absolutise that need, making the avoidance of stress an end in itself.
The way that we choose to prioritise our time is central to the ongoing development of our lives. What we spend time doing, we become. If you spend lots of time reading, you become more literate and informed. If you spend time exercising, you become fitter, and so on. But at the same time we need to cope with social conventions about how we give our attention to people, and often those social conventions are important both for social harmony and long-term psychological balance. That's why I think I have some justification for feeling slightly offended that I was not contacted to be told that I was unsuccessful in a job interview. We need to maintain a basic respect for others by recognising them and their most important needs when we come into contact with them – and totally ignoring those needs and expectations creates a sense of hurt. "Being busy" is not really an adequate excuse for ignoring those healthy conventions in most circumstances.
If you're too busy to read this blog (which you're obviously not, given that you've got this far), then I'd suggest just an examination of the reasons why. Is it because any alternative to the things you give priority to instead is unthinkable? Is there no room at all for serendipity, for just responding to what comes up, in your life? Or, on the other hand, is it because you have a balanced awareness of the priorities in your life, and reading random blogs doesn't accord with that awareness? If the latter, fair enough. I hope you're benefitting from whatever it is you're doing that is not reading this blog. 🙂
Picture: Clock by Mossbourne01 (CC – Wikimedia Commons)