Our spring weekend retreat will be a small, informal opportunity to meet with other people interested in practising the Middle Way and engage in discussion , meditation and the arts. We have hired a house rather than a retreat centre for this event, to try to make sure we get viable numbers. That means there will be only 8 places – allocated on a first-come first-served basis in booking. The house is based in rural Staffordshire in north central England, easily accessible from the M6 motorway.
Where? Fir Tree Cottage, Chatcull, near Eccleshall, Staffs, ST21. For details see this link.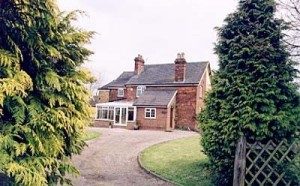 When? Fri 11th March 2016 (6pm) – Sun 13th March (finishing time TBA)
Leader/ facilitator Robert M. Ellis
Who is the retreat for? Anyone aged 18 or over interested the Middle Way. You do not necessarily have to be a member of the Middle Way Society (though we hope you will consider joining) nor from any particular religious or other background. Experience of meditation is helpful, but some support can be given to those who have not meditated before.
Cost: Total cost for this weekend is £60, including all accommodation and food. You can either pay this amount in full on booking, or pay a non-returnable deposit of £25, with the balance payable at the beginning of the retreat.
Equipment: Please bring meditation cushions/ stool if you use them, and if you play a portable musical instrument, please bring it if possible.
Retreat conditions: To help create an atmosphere supporting integrative practice, people attending the retreat will be asked not to use electronic devices such as mobile phones, computers, radio or TV during the course of the retreat, except for the purposes of the retreat programme or for urgent personal reasons.
Travel: The cottage is easily accessible by car from the M6 motorway. If you come by train or coach, we can make arrangements to pick you up from Norton Bridge, Stafford, Stone, or other nearby stations. Stafford Station is on the West Coast Main Line from London, and is also easily accessible from Birmingham New Street (28 minutes) and Manchester Piccadilly (58 minutes).
Accommodation: There are four bedrooms in the house, one double and three twin. You are thus likely to need to share a room, but only with one other person. As long as there are not more than 8 people in total (rental conditions), we could also have people sleeping in the lounge or other rooms as necessary. We will negotiate and check the sleeping arrangements with you to make sure you are comfortable with them.
To book Please fill in the form below. When you submit the form, it should be followed by a Paypal payment facility where you can pay either by Paypal or by debit/ credit card. Once you have submitted the form and your payment, your place on the retreat will be secured.
Questions: For any further questions about the retreat, please contact robert (at) middlewaysociety.org. For queries about payment please contact barry (at) middlewaysociety.org. (Substitute @ for (at)). Alternatively you can use the comment function below for public questions or comments.