The third volume of my Middle Way Philosophy series, The Integration of Meaning, is now out in paperback.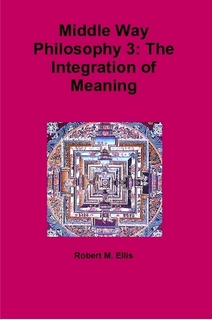 The first part of this book offers a detailed explanation of embodied meaning, drawing on the work of George Lakoff and Mark Johnson. It also explains the drawbacks of the traditional way of understanding meaning as a link between language and reality – representationalism – and how this has contributed to unhelpful metaphysical beliefs.
The remainder of the book is concerned with the integration of meaning, explaining how meaning relates to other sorts of integration, how working with archetypes can help integration, and making a survey of different sorts of practices, including the arts, that can support integration of meaning.
You can see more details and buy the book from this Lulu page. It will eventually also be available from Amazon, Barnes & Noble etc., but not for a few weeks yet.