The first volume of my detailed 4- volume account of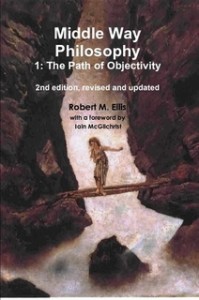 Middle Way Philosophy – 'Middle Way Philosophy 1: The Path of Objectivity' – is now available in its second edition, revised and updated. This update has allowed me to make it fully consistent with the rest of the series, and it also includes a few additional arguments and responses. It also now includes a foreword by Iain McGilchrist, author of 'The Master and his Emissary' and patron of the society.
See this link for the page about the book on this site, or click the icon to go straight to a page where you can buy the book.

Coming soon, too, will be an Omnibus edition – all four volumes of the series in one convenient book.