I'm not the world's most enthusiastic practitioner of DIY, though once I get going I can enjoy it, even if the results are not always quite what I hoped for. Very often, though, it seems that when I botch a job it's because I haven't got quite the right tools to do it with. That's when this proverb is lying in wait for me: "A bad workman blames his tools". On the basis of this proverb, it seems that the tools will always be necessarily blameless, and I should always take full responsibility for my own incompetence.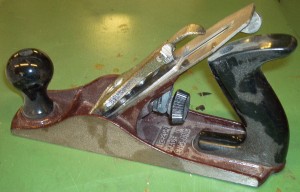 After all, it may be said, I'm in charge of whether I use the tools or not. If the tool I've got is the wrong shape or size, worn out, or ineffective, then surely it's up to me to get hold of the right tool? By extension, the same can be said of the materials I'm using, my own state of mind or body as I work, and even the wider context in which I choose to work. The proverb encapsulates a common experience of a way in which we often avoid responsibility, and guards against a recognised bias – often known as the self-serving bias – in which I'm likely to try to maximise the credit I take for things I did well, but blame my failures on the surrounding conditions.
But the fact that there are also proverbs saying pretty much the opposite should alert us that this is not the whole story. "You can't make a silk purse out of a sow's ear" focuses on materials rather than tools, but makes the reverse point in a similar way. Your materials limit what you can do, just like any other aspect of the conditions you're working with, whether it's the tools, the workmates, the environment, or your state of health. You can change all of these things to some extent, but you'll probably have to put a lot of effort, social capital or cash into changing them, and there are practical limits that can be put on any blame that should be attached to how much you fail to change them. At some point, if the conditions are against you, you have to accept them rather than trying to change them.
So, let's take a recent real example of slightly botched DIY. I was screwing up a set of coat hooks onto a wall, but I couldn't get the screws all the way into the wall because the resistance was too great and the heads of the screws insufficiently robust. Both a manual and an automated screwdriver continually slipped round in the screw heads when I tried to get them in further. But I got them in just far enough to conclude that the job was imperfectly done and the hooks would stay up sufficiently well. Should I have invested a great deal more time in getting it right, even going out to buy new screws and new screwdrivers, or even employing a professional to do the job? No, I think the partly botched job was adequate for my purposes.
So the Middle Way sometimes seems to imply facing up to one's own incompetence, but just as often it means being satisfied with adequacy. A workman who blames his tools isn't necessarily wrong.