It was not a sudden, blinding revelation, but more of a gradual realisation: the decision I'd made to eat a vegan diet was not a rational one.
Now, I made that decision back in September 2015 and—rational or not—over the past 20 months I've believed that animal products are not for my consumption, with no regrets. Please understand that for me it isn't all about purity: I'm not a vegan fundamentalist. I've occasionally submitted to the social pressure to eat egg-containing (and delicious) home-made cake, and in an effort to prevent food going to waste I've ingested some cheese made with cow's milk. I can't say that either of those deviations from the vegan norm have particularly troubled me, although I was hyper-aware of what I was doing as I did it.
Over the past few months I've come to realise that it would be a mistake to argue that my dietary decision lacks justification simply because it was irrational. Not because the rational doesn't or shouldn't play a role in moral decision-making, but because our secular Western culture seems to believe that true moral decision-making flows purely from rational, logical thought. And a quick review of our actual experience shows that this default theory of secular morality is mistaken. Let's dig deeper…
Moral psychology and an elephanty metaphor
The origins of morality have presumably been debated for as long as debating has been around. In the mid-twentieth century academic psychology got involved and researchers tested hypotheses such as 'morality is innate' or 'morality is learned'. More recently the field has reached a level of sophistication where some psychologists are able to conclude that, as seems to be the case generally with nature/nurture dichotomies, it's a bit of both.
One of the most prominent researchers in this area is Jonathan Haidt, and in his 2012 book The Righteous Mind he sums it up like this:
[M]orality can be innate (as a set of evolved intuitions) and learned (as children learn to apply those intuitions within a particular culture). We're born to the righteous, but we have to learn what, exactly, people like us should be righteous about.
Now, I've been getting to grips with the idea that people's moral arguments (including my own) can't really be taken at face value because generally they're post-hoc cognitive constructions developed for social reasons once the automatic and instantaneous moral intuition has done its work making the initial moral choice. I knew this was one of Haidt's principles of moral psychology, from reading other books, Robert's review of The Righteous Mind and online videos. Now I've actually borrowed the book from the library and read it I'm better informed about his model, and the research that it is entwined with.
The first part of this book is the most relevant to what I'm talking about here. In it he states the first principle of his moral psychology as being: Intuitions come first, strategic reasoning second. It is this principle that seems to be at work in me with regards to my dietary ethics. In both his books he uses an interesting metaphor when discussing this first principle, namely that
…the mind is divided, like a rider on an elephant, and the rider's job is to serve the elephant. The rider is our conscious reasoning—the stream of words and images of which we are fully aware. The elephant is the other 99 percent of mental processes—the ones that occur outside of awareness but that actually govern most of our behaviour. … [T]he rider and elephant work together, sometimes poorly, as we stumble through life in search of meaning and connection.
Riding my metaphorical elephant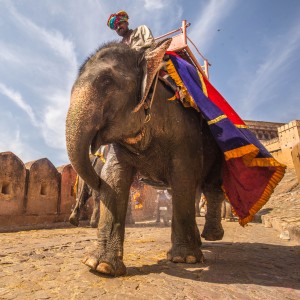 In the subtitle above I imply that I possess the metaphorical elephant, whereas – in the light of Haidt's moral psychology model – it might be more accurate to say that the elephant both is me (as the part of my mind that works before and at a more fundamental level than my conscious cognition) and has me (in the sense that the conscious cognitive "I" serves it and has little control over where the elephant is going).
Going back to September 2015, there was a definite moment in time when I resolved not to eat animal products any more… I think I had been off work through illness for a couple of days and I'd been watching films on Netflix – including an American documentary called Vegucated which explores the challenges of adopting a vegan diet. Immediately afterwards I went upstairs and found my wife (I think ostensibly to discuss what we might have for dinner) and blurted out something along the lines of "I can't eat eggs any more. I just can't." And then stood there wobbling a bit thinking about the half-finished box of eggs downstairs in the kitchen.
Looking back on it, perhaps there was a bit of embarrassment that I didn't have a rational reason for not wanting to eat eggs any more, after all, usually people want to know why you've changed your position on an issue and it seems culturally appropriate to have a 'proper' rational reason. My wife said something like "If that's your decision that I stand by you making it." and I went off to make something eggless for our evening meal. The elephant had decided: "Boom! No more eggs for you!" and then my cognitive mind was left floundering around trying to do some strategic reasoning that would no doubt be required in socially justifying my new food ethos.
Rational questions remained: would I have to stop eating cheese and mackerel too, in order to be consistent? Might it be easier to just stop with all the dairy products, since the dairy industry seems to involve the same level of cruel practices as the egg industry? Would my friends think I was being precious when I started turning down offers of milk in tea, or declining to join in a shared non-vegan lunch? These and many more. But, most importantly, the elephant had made up its mind and I was going to have to follow through with my role as its servant.
Feeding the elephant
Clearly the elephant had been heading in this direction for some time – I'd been a sympathiser for most of my life, not a persecutor of vegans and their weird ways. This wasn't a 'road to Damascus' style conversion from omnivorism to veganism. But in order to arrive at the point where I completely cut out animal products from my diet the elephant had taken a long sequence of small turns towards this direction, at at each stage my intellect had dutifully generated post-hoc rationalisations for these.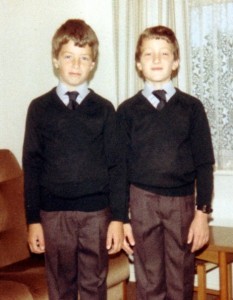 It goes back, of course, to childhood. I was a fantastically fussy eater, 'difficult' about food, and I cannot remember ever not being this way. My brother, two years younger, was quite different: a human dustbin, he'd happily eat what I would not, and probably this was why so many adults asked if we were twins; despite him being two years younger he was always the same size as me (as you can see in the photo on the right, taken perhaps when I was 9 and he was 7).
In early teenage years my moral intuition told me that I should stop eating meat, so that's what I did. The logical reasons were well rehearsed—I'd witnessed many mock arguments between peers about whether it was right to eat meat or not—but it really wasn't these arguments that persuaded me. It just felt like the right thing to do, even if it was considered rather effeminate for me to give up meat (this was the 1990s… but is it any different now?).
Aged 18 I very abruptly got over my life-long fussiness with food—I'm not at all sure how this came about at all, let alone so quickly—but this was the age where it also felt intuitively OK for me to eat meat again. So I did, and shortly after (when I went off to university) I didn't introduce myself to anyone as being a vegetarian. Whilst at university I met my now-wife, and we've been together for 22 years. She became a vegetarian at university because it seemed like the right thing to do, although one that wasn't particularly interested in cooking. So for those first 20 years together—with me as the domestic chef—I was a quasi-vegetarian, making and eating vegetarian food at home, but usually eating meat if I ate out anywhere. I only went through a meat-at-home phase during the three years that we lived apart in order to do our doctorates at different universities.
As an adult, then, I was definitely over my childhood fussiness and managed to get a reputation as a human dustbin. The elephant kept directing me back for seconds, thirds and so on, and I subsequently concocted rationalising stories about 'not letting food go to waste'. Another set of questions came along with the birth of our son, just over 8 years ago: when it came time for him to be weaned, here was a tiny human being whose menu was (initially) completely dictated by his parents' choices.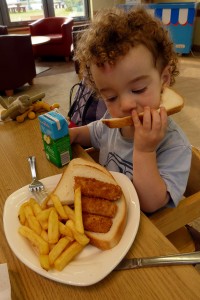 What was the 'right' choice for us to make? To what extent would he decide what he ate and why? Either the elephant, or pragmatism, made the decision: we weren't going to specially buy in meat for him to eat at home. He grew up healthy and un-deformed, despite some frowning from meat-eating adults, and he eventually settled into something like a pescatarian diet—vegetarian, but with occasional fish dishes—and, as far as I know, he's never eaten the conventional chicken, beef, turkey, lamb and pork foods that most of his friends eat.
So, here are the last few elephant moves and subsequent rationalisations that brought me to the point of veganism:
A lactose-intolerant wife meant soya milk in the fridge. I made the (initially gross) switch to soya milk in tea. Rationalisation: Efficiency. There'll be more room in the fridge if I stop buying cow milk. The cow milk always goes off anyway.
A work trip to California for 10 days in the spring of 2015, started off eating huge beefburgers ("when in Rome…") but within a few days swung back to an entirely vegetarian diet. Rationalisation: Burgers are gross, my digestive system isn't used to this kind of treatment, America has an obesity problem, I want to avoid going home 'smelling like meat' like last time I had a work trip to the USA.
A later work trip in the summer to the south of France, with Jonathan Safran-Foer's book Eating animals as reading material at the airport, the meatiest thing I ate was fish. Rationalisation: Eating meat supports horrific treatment of sentient beings – as explored in the book. I described myself to one of the students as 'a vegetarian who sometimes eats meat', he said I was hypocritical and being a hypocrite is bad. There's lots of cheese in France, cheese is OK isn't it?
Meeting an exceptionally bright ex-student who was back from university for the summer, and had enthusiastically embraced veganism whilst at university. I felt sympathetic towards his position. Rationalisation: He is a really clever person, and a person of great integrity, therefore I should emulate him.
In conclusion
In writing all this I've taken a leaf out of Jonathan Haidt's book – rather than battering you with rational argument after rational argument as to why I think it is right to eat a vegan diet, I've instead taken you on a personal journey. I've let you see that I'm a real person with vulnerabilities and uncertainties, rather than an android with a socially-awkward diet. Similarly, I've not set about criticising your own personal food choices and ethics using (what I would see as) pure logic and cold hard facts. Your intuition would have steered you away pretty quickly, entrenching any differences between us and leaving us both feeling like we were always right and the other was just plain wrong. In fact you would have been very unlikely to get this far in unless you were planning some kind of logical refutation of everything I'd said in order to prove just how wrong I was.
If you have the slightest interest in becoming more vegan than you already are, then I refer you to the recommended listening, reading and viewing that I've listed at the end of this post; they're full of partisan rational arguments, many of them biased, but that's the way things are and I'm sure you're mature enough to cope with that.
Now, given that this is a Middle Way Society blog post perhaps I ought to conclude with a few Middle Way pointers:
The Middle Way is not a soggy compromise between two contrasting views: one can arrive at a seemingly 'extreme' viewpoint (that it is better to eat a totally vegan diet) whilst holding that belief provisionally, without becoming dogmatic about it. It's not easy, but knowing that it's not easy is the first step to making it work. Unlike the decision to donate a kidney, the decision to go vegan is instantly undo-able, and yes—of course I'd rather eat meat than starve to death.
The Middle Way stresses the incrementality of our beliefs – we do not need to succumb to the 'all or nothing' thinking of the nirvana fallacy. It is not a case of either you are or you aren't (a vegan). You can eat less meat, you can use fewer dairy products. You can give up flesh for Lent. You could just eat less. There are many dietary configurations in the human population, there have never been such a wide variety of food options on offer in supermarkets and restaurants, and—to be quite frank—if you're reading this you're probably not starving for lack of funds or opportunity.
The Middle Way suggests that we should be sceptical in an even-handed way. If you want to be exposed to extremely polarised views on veganism, I refer you to the thing known as 'social media'. If your elephant has chosen a particular path for you, based on intuition, make sure that any post-hoc rationalisation that you do isn't based on the sort of absolutisations that you will quickly encounter on the interweb. If you can't understand the way that your opponent justifies their position, or their objections to your arguments, then do you really understand the rational justification for your own beliefs?
So, as I said at the start of this post, the decision I'd made to eat a vegan diet was not a rational one. But I hope you appreciate now that choices are only rational to a degree, and that an 'irrational' impetus can still lead to a beneficial outcome!
---
Suggested listening

Suggested reading
Suggested viewing
Photo credits
Photos of elephants and eggs courtesy of pixabay.com [License: CC0 Public Domain]
Photo of brothers from the 1980s was scanned from the family archive [License: CC BY-SA 2.0]
Photo of my son is all my own work. [License: CC BY-SA 2.0]