The Middle Way Philosophy series, by Robert M Ellis, aims to give a detailed account of Middle Way Philosophy in 4 volumes. The series aims at a moderately readable academic standard, with full references and bibliography.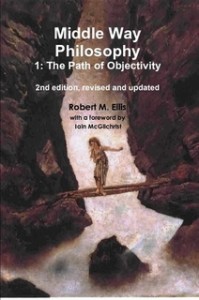 Volume 1 'The Path of Objectivity' introduces all the main concepts of the philosophy and provides a detailed justification. This second edition, revised and updated, now includes a Foreword by Iain McGilchrist, author of 'The Master and his Emissary'. This foreword can be read in the preview below.
The second edition is available as a paperback, though currently the e-book is still the first edition.
"An important, original work, that should get the widest possible hearing." Iain McGilchrist
Sections:
The avoidance of metaphysics
The appeal to experience
The Middle Way
Aspects of objectivity
Justification
Ethics

See this book's page on Lulu (paperback)
See this book's page on Lulu (e-book)
Preview of book