The Middle Way Philosophy series, by Robert M Ellis, aims to give a detailed account of Middle Way Philosophy in 4 volumes. The series aims at a moderately readable academic standard, with full references and bibliography.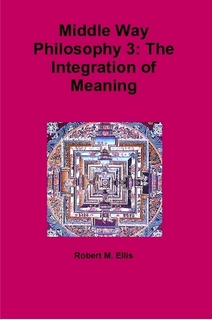 This third volume applies the revolutionary view, taken from cognitive science, that meaning is found in our bodies rather than in a relationship between language and reality. The cognitive meaning found in dictionaries and the emotive 'meaning of life' cannot be separated.
This approach reveals the basic error of the metaphysical views that often obsess people, which depend on absolute cognitive meaning. It also provides the basis of an account of how we can integrate meaning. Each new time we connect an experience to a symbol we extend meaning in a way that gives us more resources to develop more adequate beliefs. The practice of integrating meaning can be promoted by the arts, meditation and focusing, and can also involve working to resolve archetypes.
Sections:
Our experience of meaning
Fragmentation of meaning
Fragmenting philosophies
The archetypes
The process of integrating meaning
The practice of integrating meaning
Integrative achievement in meaning
Political forms of meaning-integration
Preview of book