'The Biology of Desire: Why addiction is not a disease' by Marc Lewis (Public Affairs Books 2015)
Review by Robert M Ellis
Desire has had quite an image problem. This basic function of our bodies, that drives and motivates us to do anything and everything, is responsible for both our highest achievements and our worst sins, but is too often associated with the latter rather than the former. With Buddhism ultimately wanting to get rid of desire altogether, and a range of ascetic traditions appealing to God or rationality to help us keep it in its place, the major obsession of civilisation until quite recently seems to have been the suppression of what they saw as the evils of desire. But with the rise of industrial societies and their accompanying problem of alienation, the reverse problem has become increasingly common: a complete surrender to narrow, self-fuelling, self-destructive desires. Fleeing from our insecurities, we take refuge in alcohol, drugs, gambling, pornography, romantic love or computer games, etching ever deeper loops of dependence into our brains. Civilisation's response is often more of the same: desire should be repressed, either by the addicts taking responsibility for themselves or by the intervention of medicine. But none of this takes adequate account of the way desire is central to our good works as well as our bad, and how even a wish to extinguish desire is also a desire.
Marc Lewis's highly readable and informative new book is an excellent critical response to the dualism of this contradictory and ineffectual attitude to desire. A neuroscientist but also an ex-addict himself, Lewis makes the case that addiction is primarily a diverted learning process. We learn by seeking rewards, and then responding to the dopamine signals we get back to seek more of the same. A child responding to a teacher's praise or a business person developing their successful exploitation of a market work in the same way as the addict who is rewarded by a drug high that removes an underlying anxiety. The only difference, of course, is that the feedback loop in drug addiction can more easily become both compulsive and ruinous. Nevertheless, Lewis maintains a big, humane perspective on the whole process, and reminds us that most addicts (if they don't die) will recover within fifteen years. Not only that, but when they have recovered they will have benefitted in the long term from a profound learning experience.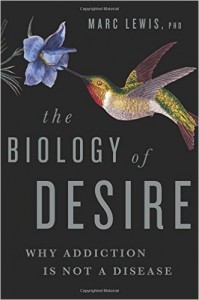 Lewis offers a balanced critical argument against the dominant 'disease model' of addiction. Although willing to acknowledge the relative strengths and achievements of medicine in trying to help addicts, he argues that addiction is not helpfully understood as a disease. The chief reason for this is that addicts, in order to recover, need to shift to a bigger motivation for living their lives without addiction. The medical model tends to be deterministic in relation to the individual, assuming that they can't help themselves but need the intervention of experts; and although there can be empowering types of therapy used within the medical model, the overall model itself is disempowering. Of course, if seeing something as a 'disease' has this effect, it raises the issue of whether other conditions beyond addiction are similarly disempowered by the model, and whether we should abandon or modify this understanding of disease as a whole. These are bigger questions that Lewis obviously does not see as within his scope.
On the other side, Lewis also sees the limitations of alternative models of addiction: the 'choice model' that puts all the responsibility on the addict, and the 'self-medication model' that sees the addict as ineffectually trying to cure themselves of past trauma. Lewis sees the need for the addict to take responsibility, but also recognises the full difficulties of doing so. He also recognises the role of past traumas in producing anxiety that addiction often seeks to allay, but that does not make self-medication a total explanation.
Lewis successfully interleaves accounts of the activity of an addict's brain with biographies of five real cases, in the process making it clearer both why they reached the terrible states they reached and how they recovered. His basic account of the brain activity of addiction is that a feedback loop develops between the striatum – the motivating organ in mid-brain that is fired by dopamine – and the dorso-lateral prefrontal cortex, which shapes goals and methods of reaching them. When our goal becomes the relief from underlying anxiety that can be temporarily gained through the object of addiction, and we keep getting the dopamine hit of a goal fulfilled, the neural pathway between the two becomes ever more strengthened and alternative goals gradually become less powerful. Lewis also explains how the neural pathway also gradually shifts its location as addiction proceeds, so as to become gradually less conscious and more compulsive. The grey matter that provides reflective awareness in the prefrontal cortex decreases, as we descend to increasingly automatic actions dictated by our lower brains.
But Lewis also tracks the process of recovery. Some addicts may die, but those who recover first hit a rock-bottom moment of exhaustion in which the full consequences of the state they've got into, and the possibility of getting out of it, are somehow recognised. The brain is still flexible enough to rebuild itself, and more positive goals provide a perspective that enables recovering addicts to re-frame the addiction as a diversion from those goals rather than an all-encompassing need. As Lewis makes clear, recovering addicts do not suddenly start to 'control themselves', nor are they cured by drugs or medical interventions. Rather, they reframe their goals. The practices of meditation and mindfulness can be very helpful in doing this.
The relationship of this reframing to the Middle Way should be obvious. As Lewis said in his recent podcast interview with Barry, he sees the Middle Way as lying between asceticism and hedonism, those two polar opposites in our attitude to desire that are even recognised in the classic Buddhist version of the Middle Way. So far, then, we have a highly informative and inspiring book whose overall intention is obviously very much in harmony with the Middle Way. However, I also find a number of limitations in the book, which I see as limitations in Lewis's understanding of the Middle Way as it relates to neuroscience and psychology. These limitations involve a lack of intellectual integration between this approach to addiction and related issues of cognitive psychology, a puzzling interpretation of the role of the brain hemispheres, and an apparent residual allegiance to the model of self-control even when he elsewhere emphasises reframing as a better alternative.
To some extent Lewis does seem to recognise the close but counter-dependent relationship between addicted indulgence and what he refers to as 'simple suppression' (which I would call repression, as it tries to destroy the unwanted impulses rather than consciously leaving them to be dealt with later). 'Acts of will' of this kind do not work because they produce 'ego fatigue', the gathering exhaustion that eventually results in us giving in and flipping back into indulgence. Lewis charts this process in the case of Alice, an anorexic/ bulimic who flips between neurotic self-control and binge eating. However, the concept of ego fatigue is just another way of talking about conflict. You can repress a desire, but if it is still strongly present in the entrenched neural pathways Lewis describes so vividly, it will be back. The flips of the anorexic-bulimic resemble those of the addict making initial weak and unsuccessful attempts to quit, as also those of the religious convert, the hypocritical moralist, or the rebellious individualist. On one level they may be due to a lack of the glucose required to keep open a new synaptic track when an easier and older one exists as an alternative. But that by itself would not account for the counter-dependence of opposites in our cognitive construction of the situation. Easier tracks are not necessarily opposite tracks. To account for that we need to pay much more attention to the role of the brain hemispheres than Lewis does, as I will explain below.
Lewis acknowledges the different roles of the left pre-frontal cortex in specialising in goals and representations, whilst the right provides new information from the body and senses. However, he does very little with this, and some of what he does say is puzzling and (on his own admission) speculative. He notes that the recovery of addicts who generate a wider perspective in their lives seems to produce stronger links between the striatum and the left pre-frontal cortex. That would indicate that recovering addicts do need strong goals and representations, but that could hardly be enough by itself given the tendency of the over-dominant left pre-frontal cortex to absolutise – forming beliefs that it takes to be certainties. Given the established roles of the two hemispheres, it would seem impossible for an addict to recover without a good input from the right hemisphere integrated with the left. More false certainty would just provide a basis of further repression and conflict, as the rigid certainties of the over-dominant left hemisphere repress alternatives. Instead, the recovering addict must surely have access to new perspectives that challenge that rigidity and help him or her to re-frame rather than repress the patterns of addiction. These could only possibly come from the right hemisphere, even if this happens indirectly through more adequate integration with the left as well as stronger communication between the left and the striatum.
What puzzled me in Lewis's account of the hemispheres was also that he gives an account of the relationship of each to time that is completely inconsistent with that of Iain McGilchrist. Lewis talks of the left hemisphere's grasp of time being linear and the right's being cyclic, and he tries to use this to explain the stronger links with the left pre-frontal cortex in recovering addicts (though he does admit that this is speculative and based on limited evidence). 'Linear' here seems to mean having goals in view and 'cyclic' not having them. By contrast, McGilchrist's explanation of the two hemispheres' relationships to time is entirely consistent with, and helps make sense of, all the other well-established specialisations of each hemisphere. In McGilchrist's account, the left hemisphere thinks sequentially, but does not actually experience the passing of time between points, unlike the continuous experience the right hemisphere has of time. Far from being able to get a wider perspective of their longer-term interests through sole dependence on the left hemisphere, then, recovering addicts will need an active sense of how their experiences at different times are linked. Such linking can only come from the right hemisphere integrating the otherwise isolated sequential goals and representations of the left.
If we recognise the segmented and sequential nature of the over-dominant left hemisphere, that makes it easy to account for inconsistencies in belief in both addicts and dogmatists. If we understand the repressive nature of absolutising, we can also make sense of the way that beliefs as well as associated desires flip between opposite extremes. When we are absolutising, everything that is not the absolute we identify with is a negation of it. That is a point that applies to addicts as much as to (for example) fundamentalists. For example, a heroin user desperate for their next fix separates the world into the 'good' that will provide the fix and the 'bad' that will impede it. All other distinctions disperse together with the grey matter that would be needed to make them.
Lewis also lays much stress on 'now appeal' meaning discounting of the future, which may indeed be a particular problem for addicts who want their fix immediately. However, there is no reason to think that our temporal absolutisations more generally need to necessarily take the form of discounting the future in favour of the present. If you look at the whole range of cognitive biases involving time, they can also include fixation on the past against the present (sunk cost fallacy) or fixation of the future against the present (forecast illusion and neomania). Given the left hemisphere's disassociation from the actual experience of time passing, this is hardly surprising – all that is needed is an idea of a time to become fixated on, at a remove from actual time. 'Now appeal' needs to take its place amongst a range of temporal biases rather than be given the special status that Lewis sometimes seems to claim for it.
Lewis's limited view of the hemispheres also seems to come with an associated problem of assumptions about the self. Although he perceives the limitations of the Platonic 'rider and horse' view of mind and body that he mentions as a common model for 'self-control', Lewis's model for how the addict recovers still seems to involve a single locus of control in the left hemisphere. But the left hemisphere, as any reader of McGilchrist must realise, is not the single locus of a single self. When we form a string of discontinuous certainties that may be inconsistent with each other, this seems to produce varied selves, or at least the lack of any grounds for assuming a single self. Those varied selves are differentiated from each other through conflict, as the beliefs of one moment contradict those of another. You cannot resolve such conflict simply by 'winning' – i.e. through a (somehow magically consistent) left pre-frontal cortex imposing its will on the rest of the brain through better linkage with it. Instead it requires a dialectical process.
Here we get to the heart of the 'reframing' that Lewis does not seem to give us an adequate explanation of. To reframe, I need to recognise and accept a different perspective, and allow it to modify the assumptions of the one I currently identify with, in a way that maintains continuity but also allows a more adequate view to emerge. In a dialectical process, the best parts of two opposed views are mutually adopted, but the unhelpful assumptions that were producing conflict are discarded. The 'two mules' picture gives a strong symbolic representation of this process, which is also fundamentally one of reframing so as to resolve conflict. But you can't integrate two views dialectically unless we first accept that there are two views.
In my view, then, it is only possible to make sense of the recovery of an addict by using a model of the brain that recognises it as at least potentially containing multiple selves, which can also then potentially go through a process of integration. The clearest route to this lies through seeing our separate selves as represented by the left hemisphere at different times, but the right hemisphere also having the potential to integrate those conflicting selves, by confronting them with falsificatory conditions and providing a framework of continuity in which they can engage with each other. 'Self-control' is unsuccessful because it assumes a unified self doing the controlling, and we have no grounds to make such an assumption. We may only have one brain, and from a neuroscientist's point of view what may be happening is different sets of entrenched synaptic links, but from the standpoint of experience we need to recognise that we have several selves, and that the belief in the single self should not be unconsciously imported into the assumptions of neuroscience.
The efficacy of the practical approaches that Lewis recommends becomes much clearer with this model. He talks a lot about connection as the basis on which to overcome addiction, including the 'Birmingham Model' that aims to help addicts by giving them connections in the community: but connection is something we experience through the right hemisphere, which not only mediates all input from outside our minds but helps us identify and relate to persons. He also mentions the benefits of meditation for some of his examples, but meditation begins with body consciousness (overwhelmingly right hemisphere) and the soothing of the left hemisphere's obsessive trains of representational thought. Lewis also puts a lot of emphasis on narrative, and of the need to overcome addiction by having a strong story of where one's life is going. But narrative does not just consist in conceptualised goals: rather it involves a dialectical process in which barriers to those goals are negotiated. By the end of the story, the hero may achieve her goals, but she will also have learnt something in the process that disrupts her previous limitations. This, again, involves an integration of the hemispheres: or more precisely, the use of the right hemisphere to integrate temporally separated representations of the left.
In adopting such an approach, too, it becomes possible to unify our account of addiction with our accounts of dogma and of cognitive error. Lewis frequently notes the 'stuck' nature of the addict, rigidly thinking and doing the same things over and over again regardless of the circumstances. Our cognitive biases also take this form, of tendencies that may have made sense in some circumstances but no longer do so, and our dogmatic beliefs are such precisely because of this tendency. The feedback loops of confirmation bias are not ultimately different from those of addiction, with each being motivated by the rewards of finding what we expected to find. Lewis helps us to understand the addict's loops thoroughly, even if he does not make all the further connections. Despite its limitations, then, Lewis's book can provide a stimulating and helpful account that in the larger view contributes to this gathering picture of the nature of absolutisation – and of its avoidance, the Middle Way.