The Middle Way involves the avoidance of absolute authorities, but also the avoidance of the converse – dismissing all authority. In between we have the idea of justified authority that can be based on experience. Recognised fallacies in Critical Thinking, such as the irrelevant appeal to authority or the genetic fallacy, reinforce this need to avoid dogmatic extremes in thinking about authority.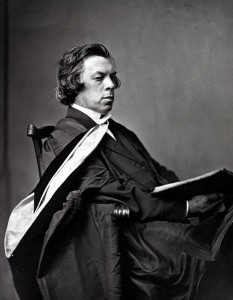 Cognitive biases such as the authority bias also reflect psychological evidence of our tendency to uncritically obey authorities, especially reflected in the famous Milgram experiments.
The basic fallacy recognised in Critical Thinking in relation to authority is the irrelevant appeal to authority. This involves the assumption that an authority figure must be correct in whatever they claim, whether or not it is relevant to their particular expertise. Many adverts trade on this by using celebrities to endorse products that they have no particular expertise in. The following US commercial from the 1950's is a classic example:
Nevertheless, because doctors are probably not a relevant authority to consult on which brand of cigarette to smoke, this does not imply that they do not have any authority. I am likely to rely on my doctor's authority if he prescribes me a drug for a serious condition – not because I think him/her infallible, but because experience suggests that doctors are the best available source of information. The justification is largely second-hand, but no worse for that: the experience of most other people, that they have communicated to me, is that doctors are the best available guides to the complex field of medicine. To dismiss this authority on the basis of some mistakes made by doctors (even some serious ones) would be to make the reverse fallacy.
Another way of putting this more positively is that doctors have credibility. We are obliged to make judgements of credibility constantly, when deciding which books to read, which experts to consult, whose advice to heed etc, when (as often) we have no direct understanding of the issues. There are various criteria you can consciously apply to reflect on credibility: reputation, ability to gain information, vested interest, expertise, corroborating or conflicting information, and previously-known tendency towards bias. None of these are decisive by themselves, but they can be weighed together to try to reach a justified judgement.
It would be unjustified to give a huge weighting to one way of judging but ignore the others. For example, people often have some kind of vested interest in your acceptance of the information they offer (e.g. now, if you read this blog post, I have some vested interest in the shape of a vague hope that this will encourage you to buy one of my books in future). However, vested interest does not necessarily mean that the information should be treated with suspicion, or that the person's motives are dominated by it, and if we dismissed everyone with a vested interest, we would never consult any experts about anything. Similarly, we often over-rate the effect of one well-known event on someone's reputation: but if someone made a mistake or even committed a crime in the past, this might just as well be taken as a sign that they are likely to avoid that mistake in the future than that they will repeat it.
The authority bias, then, is like a single over-rated criterion of credibility. If, as in the Milgram experiments, you're prepared to give painful electric shocks to others because a man in a white coat tells you to do so, you're assuming that they have absolute authority because of their apparent expertise, and not considering the possibility of a problem with their moral judgement. Similarly, in a religious context, if you think that the fact that the book of Leviticus forbids homosexuality offers a relevant moral command for today, you are effectively taking the reputation of that religious text within a certain limited group and using this as your sole criterion for its credibility, whilst ignoring the lack of relevant expertise of the people who created the text, and the conflicts with other more recent sources of information.
Appeals to authority at their broadest are genetic fallacies – that is, the assumption that a claim is absolutely right because of where it comes from. This can apply to people, texts, governments, traditions, supposed intuitions and supposed observations. The basic problem is that wherever you think it has come from, you are still responsible for interpreting it and judging that it is justified and credible. If we take responsibility for our own judgements, the authority bias becomes much less likely.
Exercise
Do the following appear to be justifiable uses of authority? Why/ why not?
1. A father tells his three-year old daughter to stop slapping her sister. When she asks "Why?" he replies "Because I said so."
2. A traditional Thai Buddhist buys a caged bird and releases it to gain merit. When questioned about this by a Western visitor, he explains that this is supported by Buddhist tradition and obeys the precepts of the Buddha.
3. A Member of Parliament votes against her conscience. When questioned by a constituent she explains that she was pressured by her party whip, and risked being de-selected by her party if she refused to vote with the party.
4. An amendment to the law in Afghanistan restores the right of a husband to use violence against his wife. The amendment is justified with reference to the Qur'an.
5. A disruptive student is told to leave the classroom by a teacher. The student refuses to leave, on the grounds that the teacher "Can't just boss me around – I've got rights".
6. A doctor gives advice on diet to an obese patient, which the patient refuses to follow. The patient points out that the doctor is overweight himself.
7. A husband had an extra-marital affair which was discovered, apologised for and forgiven a year ago. Since then his relationship with his wife has been good and trust seems to have been restored. However, now she is again suspicious about his fidelity (though the evidence is ambiguous). When the husband protests his innocence, she refuses to believe him, on the grounds that she was deceived before.