When we try to think critically and to open our imaginations at the same time, a kind of double vision results. At one and the same time we develop our awareness of potential alternatives, making our thinking more flexible, but still remain aware of the limitations of our beliefs, and do not allow our imaginativeness to slip into credulity. We develop meaning but also control belief. It seems to me that developing this double vision is one of the hardest parts of the practice of the Middle Way: but if we are to avoid absolutizing our beliefs we need to develop both meaning and belief. Those of an artistic disposition will find it easier to imagine, and those of a scientific disposition to limit their beliefs to those that can be justified by evidence: but to hold both together? That's the challenge.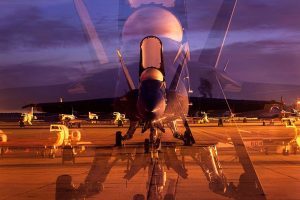 I've been reflecting more on the metaphor of double vision, since I heard it used recently in a talk by Jeremy Naydler in the context of the Jung Lectures in Bristol. Naydler used this metaphor in a talk called 'The Inner Beloved', which was about the way in which visionary men of the past have maintained images of beloved women that were actually projections of their own psyches (what Jung would call the anima). He spoke of Dante's vision of Beatrice in the Divine Comedy and Boethius's figure of Philosophia in The Consolations of Philosophy. These were not 'real' women, or had the slightest of relationships to real women, but rather became powerful archetypal symbols of the part of themselves that remained unintegrated. They were the focus of yearning, but also the path of sublimated wisdom – never possessed but always beckoning and challenging.
The capacity for double vision is central if one is to cultivate such a figure: for if a man were to project it onto a real woman (or vice-versa) the results could be (and often are)disastrous. "Being put on a pedestal" probably creates conflict when the real person starts behaving differently from the idealisation – for example, needing time of her own away from a relationship. It is only by maintaining a critical sense of how the mixed up, complex people and things in our experience are not perfect and do not actually embody our idealised projections that we can also give ourselves an imaginative space to engage with the archetype itself. Recognising that the archetype puts us in touch with meaningful potentials, showing us how we could be ourselves, and how we could relate to the world, can provide a source of rich inspiration that I see as lying at the heart of what religions and artistic traditions can positively offer us without absolute belief.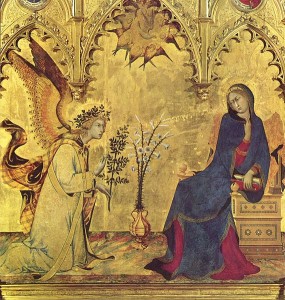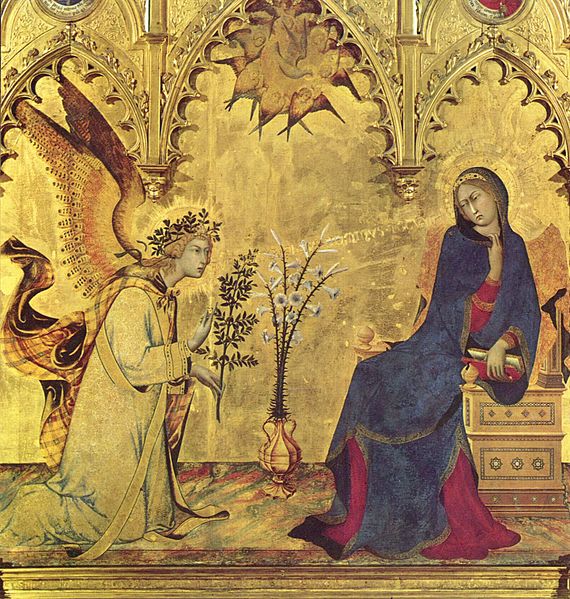 The annunciation, a Christian artistic motif that I've previously written about on this site, for me offers an example of the archetypal in its own terms. For most of us, it is much easier to look for the archetypes in art, and separate this mentally from trying to develop balanced justified beliefs with the real people we meet every day, rather than prematurely over-stretching our capacity to separate them by risking archetypal relationships with real people. That's why lasting romantic relationships need to be based on realistic appraisal rather than seeing the eternal feminine or masculine in your partner, and also why venerating living religious teachers like gods may be asking for trouble.
Personally, I do have some sense of that double vision in my life. My imaginative sense and relationship to the archetypes has developed from my relationship to two different religious traditions (Buddhism and Christianity) as well as from the arts and an appreciation of Jungian approaches. On the other hand, my love of philosophy and psychology provide a constant critical perspective which also provide me with a respect for evidence and a sense of the importance of the limitations we must apply to practical judgement. Sometimes I find myself veering a little too far in one direction or the other, slipping towards single vision rather than double vision, and then I need to correct my course. Too much concentration on cognitive matters can make my experience too dry and intellectual. Underlying emotions and bodily states can then come as an unpleasant surprise. On the other hand too much imagination without critical awareness can reduce my practical resources in other ways, as my beliefs become less adequate to the circumstances.
Our educational system overwhelmingly only supports a single vision, with the separation of the STEM subjects on the one hand from arts and humanities on the other. But a single vision seems to me an impoverished one, even within the terms of that vision. Those with a single vision based on scientific training and values tend to have some understanding of critical thinking, but to think critically with more thoroughness it's essential to be aware of your own assumptions and be willing to question them – which requires the ability to imagine alternatives. There are also those with a single vision who are willing to imagine, but tend to take the symbolic realm as in some sense a key to 'knowledge' of 'reality', and thus uncritically adopt beliefs that they can link with their imaginative values. For example, those who, like Jung, find astrology a fascinating study of meaning, often seem to fail to draw a critical line when it comes to believing the predictions of astrology – for which there is no justification.
If it is not simply a product of limited education or experience, a single vision is likely to be associated with absolutisation; because absolutisation, being the state of holding a belief as the only alternative to its negation, excludes alternatives. We avoid allowing ourselves to enter the world of the other kind of vision, then, by regarding ours as the only source of truth, and by disparaging and dismissing the other as 'woo' (from the scientific side) or as soulless nerds (from the imaginative). Rather than accepting that we need to develop the other kind of vision, we often just construct a world where only our kind of vision is required. Then we share it with others on social media and produce another type of echo chamber – alongside those created by class, region, educational level, or political belief.
Developing a double vision, then, is an important part of cultivating the Middle Way, and thus also a vital way beyond actual or potential conflicts. A failure to recognise your projection onto someone, for example, creates one kind of conflict, but a failure to imagine may take all the energy out of it and lead to another type of division between you. We may not be able to develop double vision all at once, and it's best not to over-stretch our capacity for it, but the counter-balancing path is open to you right now from here. Here are some follow-on suggestions on this site: if you're a soulless nerd, go to my blogs about Jung's Red Book. If you're more of credulous "woo" person, try my critical thinking blogs.
Pictures (both public domain): double vision from the US air force and Simone Martini's 'Annunciation'.