Integration has been a key supporting concept in the society's approach to the Middle Way from the beginning. Now we are going to devote our summer retreat to exploring it more thoroughly. The two mules picture gives a basic understanding of how integration works: opposing desires are reconciled by reframing their understanding of the conditions. But how can we practise integration effectively in relation to desire, meaning and belief? How does integration relate to meditation, mindfulness, addiction, the brain hemispheres, and the Middle Way itself? We will be exploring these kinds of questions through talks and discussions.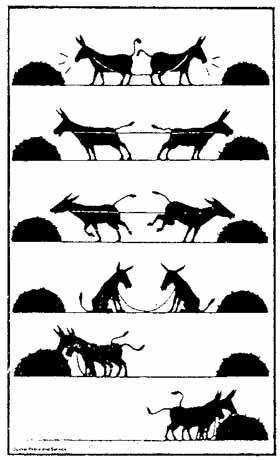 As always, our summer retreat will be based on a balanced programme of meditation, talks and discussion, arts and other activities, and free time, to help you practice integration as well as learn about it in a quiet, friendly, supportive atmosphere.
Here are some comments by participants in our 2014 Summer Retreat:
"I was anxious that a week of intellectual and social activity would prevent any significant deepening of my practice but the reality was completely contrary to my expectations. The profundity of the talks and the discussions combined with the sincerity and openness of the participants resulted in a significantly transformative experience." (Martin Blundell)
"I can only speak for myself, but I thought the retreat was carefully crafted and offered a condensed but highly accessible (and dogma-free) introduction to the Middle Way philosophy, and to the meaning of meditation. Robert's facilitation was skilful, subtle and supportive." (Peter Goble)
"I feel that my short time at the retreat will leave lasting memories, meditating together, the company at meals and of course the talks all combined well." (Norma Smith)
Where? Anybody's Barn, a retreat centre set in beautiful English countryside. The address is Anybody's Barn, Storridge, near Malvern, Worcestershire, WR13 5EZ. For more details, pictures, and directions see the Anybody's Barn website.
When? 21st-26th August 2016, starting with a meal at 6pm on Sun 21st and finishing at approximately 10am on Fri 26th.
Who is the retreat for? Anyone aged 18+ who is sincerely interested in exploring integration and the Middle Way. You do not necessarily have to be a member of the society. You do need to be committed to the retreat as a special space and willing to leave behind your normal cares and distractions. We are flexible about individual needs or arrangements as long as you are committed to the retreat as a special space: please contact Robert to discuss any special issues.
Equipment: If you prefer to sit in meditation on a stool or meditation cushions, you will need to bring these with you. Upright chairs and soft cushions will be available.
Retreat conditions: To help create an atmosphere supporting integrative practice, people attending the retreat will be asked not to use electronic devices such as mobile phones, computers, radio or TV during the course of the retreat, except for the purposes of the retreat programme (e.g. recording talks) or for urgent personal reasons.
Cost: £200 standard rate, including all accommodation and food. Please pay the standard charge if possible, regardless of your financial status. If you could not afford to attend the retreat at the standard rate, an alternative is to pay the minimum rate of £140. When booking you will be asked to pay a £40 non-refundable deposit (see below) and the balance will become payable by the start of the retreat.
Travel: See here for directions to Anybody's Barn if you are travelling by car. The nearest railway station is Malvern Link, with direct trains from London, Birmingham and Hereford. We can provide lifts to and from the railway station with prior notice (please contact robert (at) middlewaysociety.org).
Accommodation: This is in small dormitories (3, 4 and 5 bed rooms). We will negotiate who sleeps where on arrival (normally separating the sexes in different dormitories). We will try to meet any particular needs (e.g. for a single room or room for a couple) as far as possible, but cannot guarantee to do so. Retreatants will be asked to contribute to cooking, washing up, cleaning etc, unless they have physical problems with contributing in this way.
To book Please fill in the form below. When you submit the form, it should be followed by a Paypal payment facility where you can pay either by Paypal or by debit/ credit card. Once you have submitted the form and your payment, your place on the retreat will be secured.
Questions: For any further questions about the retreat, please contact robert (at) middlewaysociety.org. For queries about payment please contact barry (at) middlewaysociety.org. (Substitute @ for (at)). Alternatively you can use the comment function below for public questions or comments.