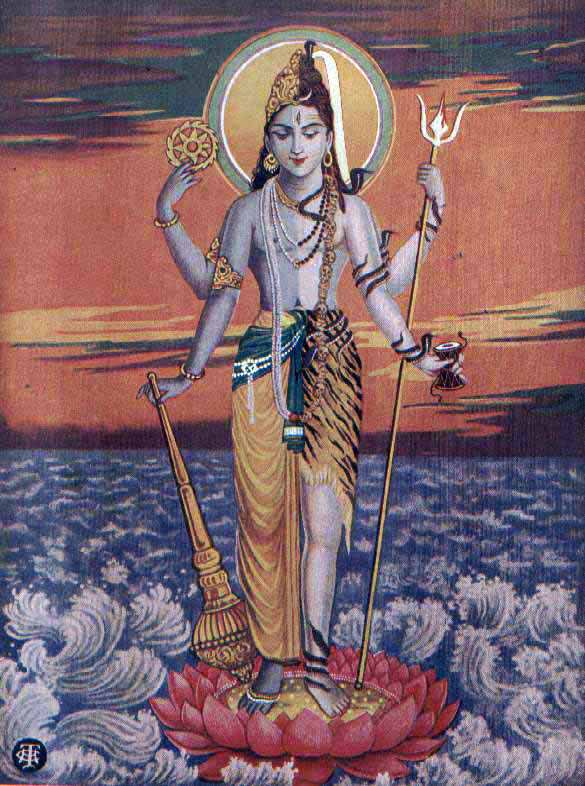 'Indian wisdom has always extolled art as the key in the salvation of ultimate release sought by all good Hindus'. In particular I find Indian miniature paintings very beautiful and colourful, designed with great ingenuity to fit a small space.
In Hinduism the central idea, the philosophy, is that there is a continuing cycle of birth and rebirth as humans search for emotional and psychological pleasure which perpetuates until the soul is freed from karma and reaches Moksha. This complex religion had its roots in India some say as far back as 10,000 years BC. It recognises a single deity Brahman but other gods or goddesses are recognised as an appearance of the supreme god Brahman who is the creator and one in a trinity comprised of Brahma, Vishnu and Shiva.
In this painting we see the combination of the two gods, Vishnu and Shiva, creator/destroyer, formed as one figure, the painter explores metaphorically the ground between these extremes, to find a balance, is there middle ground between such opposed roles, that of Vishnu the preserver and Shiva the destroyer, a divided self? It is in our power to be both creative and destructive.
Indian art in the Hindu tradition contains a wealth of symbols in a way similar to those used in Renaissance art centuries later. I do not know who painted this or where in India it orignated or its date but it is probably painted in oils. Indian art is found on cave walls, as reliefs, frescoes and scultpture and in many styles.
Vishnu in Hinduism is a popular deity, a Supreme god of the Vaishnavism denomination, one of the three most influential denominations in contemporary Hinduism. He is believed to be eternal and supreme, beyond the material universe, he is the maintainer or preserver who can be worshipped in the form of ten avatars, Rama and Krishna being the most famous, not seen or measured by material science or logic, each Hindu aims to dwell in a place of bliss for eternity. Here the question once again is posed of whether we are finite beings or infinite.
Vishnu is depicted as having a dark complexion like water – filled clouds, usually he is seen with four arms, he stands on a lotus flower, an ancient Indian symbol of purity and special power and is also shown as an example of 'glorious existence and liberation', he holds a discus, a mace, a conch and a trident, the lotus flower in this painting is set on a cosmic ocean with a red sky, a sunset or sunrise I'm not sure. Vishnu is married to Lakshmi, they have children who are also worshipped such as Ganesh, the elephant god.
Shiva is worshipped by the Chauvism denomination, the oldest of the major sects of Hinduism, it probably has its roots in Shiva worship in the Indus Valley. He is the other god portrayed whose role is that of the destroyer, he will destroy the ego and the universe at the end of a age, he is also seen as the God of the Dance, he dances the dance of death, he destroys illusions and imperfections making way for beneficial change, he is the source of good and evil and can swing to and fro from hedonist to ascetic. Parvati is his eternal wife, she is able to keep him in balance within the bonds of marriage. We see him portrayed with a blue face and throat and usually he has a white body, although that can also be blue, he has a third eye which depicts his wisdom and untamed energy, he is often seen wearing a cobra necklace to show his fearless domination of dangerous animals, three white lines lie across his forehead drawn with white ash which may hide his third eye, these lines show that he possesses superhuman power and wealth. He holds a three pronged trident to symbolise the triumvirate of the three in one god, Brahma, Vishnu and Shiva, lastly he is dressed in simple animal skins and is often set in austere surroundings looking tranquil and smiling.
In this portrayal known as Hari-hara, the gods holds a conch shell, a symbol of the five elements, water, fire, earth, air and space or sky, it produces the sound 'Om' the primeval sound of creation, a discus which refers to the mind, a trident which I mentioned earlier and lastly the mace which represents mental and physical strength. All aspects of life are covered.
Image from wikimedia commons.