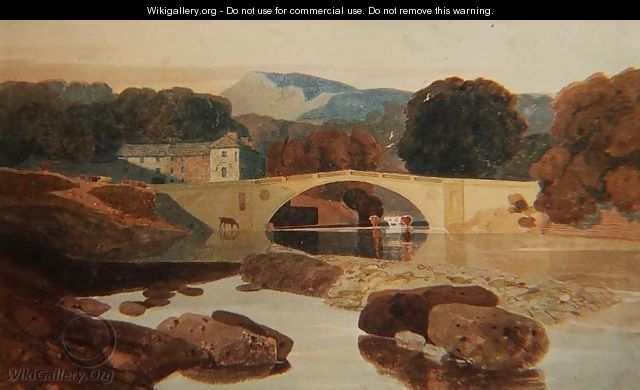 Landscape painting in England between 1800 and 1850 became an important branch of art , it took on the status that History Painting once had, important artists at this time were J. S. Cotman, David Cox, Peter de Wint and Samuel Palmer. Water – colour was the medium in which the British artist was at home, working outdoors was encouraged and many artists travelled around the country searching for scenery to draw and paint which inspired them. John Cotman's work is part of the Romantic movement of painting, together with painters like Constable and Turner to name two more. His tutor John Varley encouraged his pupils to 'Go to Nature for everything.' Landscape painting was often commissioned by wealthy landowners to portray their houses, their family and surrounding grounds.
Herbert Reid, the art critic wrote ' If art was merely a record of the appearance of nature the closest imitation would be the most satisfactory work of art and the time would be fast approaching when photography should replace painting.' I wonder if that time has arrived as painting on canvas loses favour and ideas take form in other media.
A painter does not want to describe the visible appearance of the landscape but to tell us something about it, an observation or an emotion, but more often an original discovery of the artist which he/she hopes to communicate to us, Cotman transcends the mere representation of the picturesque rural scenes, his skill at design and use of colour takes his work to an interesting level. I would be interested to know what Cotman has communicated to you in this painting, does it embody what you consider to be a British landscape, is it the clarity of the light although the sky is cloudy, the drawing skill shown, the solidity of the rocks, bridge and building, the illusion of distance, the colours or its poetic quality. A painting is more than the sum of its parts, does it make an instant impression on your senses?
I recently had the opportunity to look at one of Cotman's paintings, exhibited alongside work by Turner in an exhibition at the Greenwich Maritime Museum, I liked its simplicity, great skill is required to create simplicity, the success of a painting depends on the way a complicated image is portrayed, the spaces between are just as important. In The Greta Bridge we see reflections in the still water, as though the river was not flowing but as flat as a mill pond. Light bleaches out patches of the river water, to create greater contrast with the dark rocks.
Cotman taught himself to draw as a boy, his father was a silk merchant, he became a marine and landscape painter, etcher and illustrator. He lived in Norwich and was a member of the Norwich School which had been founded by the painter John Crome in 1808, by 1811 Cotman had become its president, he married Ann Mills and they had five children. Cotman was constantly worried about the family finances, he taught to supplement his income. Much of Cotman's best work was created outside East Anglia, he went on sketching trips, encouraged by Turner. He lived on the coast of Great Yarmouth from 1812 – 23, where he studied shipping and the action of waves. In 1825 he became an Associate of the Royal Society of Painters in Watercolours, in 1834 he was appointed as Master of Landscape Drawing at King's College School in London, the painter Rossetti was one of his pupils., In 1836 he became an honorary member of the Institute of Architects. His sons Miles Edmund and John Joseph also became painters. Cotman died in 1842.
The Norwich School had a conservative background influenced by Gainsborough and the Dutch landscape painters. One of Cotman's patrons was Francis Cholmeley, Cotman spent time as a guest at Cholmeley Mansion near York where he held a summer school. During this time he painted a series of small water colours including The Greta Bridge. To return to the painting, we see crisply defined shapes creating a feeling of mass and distance and contrasting light and shade along important edges. He used warm, dark colours in the foreground and cool green dark areas in the distance, it is said that the sky showed the influence of his old tutor John Varley. Cotman's drawing skills along with the controlled washes of colour were painted on thick, absorbent paper, he created the work in a studio, working from pencil sketches and notes on colour made at the scene. He paints layers of colour on top of each other, not wet on wet, the usual method, but after each layer had dried, each layer is darker than the former. His canvasses are small and have an intimate quality, they would hang very well in my home!
en.Wikipedia/wiki/John_Sell_Cotman