For an alternative video introduction to Middle Way Philosophy please see this page.
Middle Way Philosophy begins with the recognition that we are finite and embodied. We live in uncertainty, but grounds for confidence and positive values are also found in our own wider, more integrated experience. We do not have to appeal to absolutes beyond experience to develop increasingly adequate beliefs and values.
The Middle Way is a principle of judgement, focusing on how we respond to our experience rather than claims about how things finally are. By avoiding absolute claims, both positive and negative, we can judge more adequately. Avoiding absolutes, we are thrown into the messy, uncertain world of experience where genuine justification is to be found, rather than taking refuge in irrelevant certainties that we cannot relate to as embodied beings.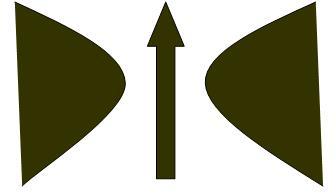 Absolutes Absolutisations are also referred to in Middle Way Philosophy as metaphysics. The absoluteness of a claim depends on the person making it, their context and their mental state, not just on the words used in the claim. What makes absoluteness so unhelpful is not whether it is true or untrue, but that we are not in a position to check on absolutes or relate them to experience at all. That means that they can be used by groups (e.g. religions, nations, ideologies etc.) as rallying points of unconditional commitment. They are thus a tool of unaccountable political power, and psychological repression as individuals accept that power. Absolutisations repress alternatives so that we remain unaware of them, and also narrow and decontextualise our judgements.
Evidence for the effects of absolutisation There is gathering scientific evidence that absolutisations are responsible for the mistakes we make in judgement. In brain terms, absolutisation is correlated with over-dominance of the narrowly focused left hemisphere (which specialises in linguistic representations of the world and associated goals) over the right (which is open to new information from the body and senses). In cognitive psychology, the practical and remediable element of the mistakes we make in thinking (cognitive biases and fallacies) can be readily identified as absolutisation. History also provides plenty of examples of the negative effects of absolutised, totalitarian beliefs in creating conflict and repression.
Even-handedness The practice of the Middle Way involves continuing recognition of the equal difficulties created by both positive and negative absolutisations. Negative absolutisations have to be understood here clearly as denials of positive ones, not just a failure to believe them. Thus for example atheism as a denial of God's existence is no more justified than theism as an affirmation of it. Middle Way Philosophy here parts company with secularist and naturalistic approaches when they fall into absolute negative assertions. However, it can be recognised that many secular humanists (together with many liberal religious believers) are motivated by a recognition of the problems caused by absolutisation.
Provisionality and integration The positive alternative to absolutisation is provisionality, where we hold beliefs that are selected in awareness of possible alternatives. This makes it possible to change belief when our experience changes. The justification of these beliefs is incremental (more or less) rather than absolute, but we can nevertheless be decisive and confident in our judgements. Another way of putting this is that provisional beliefs are capable of integration with alternatives, where absolute beliefs instead react against alternatives as opposites. Integration depends on our whole psychological state rather than just our ways of consciously reasoning.
Practice The Middle Way is thus a matter of practice as much as theory. Integration of our mental states helps us remain provisional in practice, and thus we make better judgements about our beliefs. In Middle Way Philosophy three interdependent forms of integrative practice are recommended: body awareness practices that work to integrate our whole state and most basic desires; the arts and creativity practices that provide us with wider resources for judgement; and critical thinking/ objectivity training practices that work directly with our beliefs by helping us reflect on their justification.
Ethics Middle Way Philosophy is as much concerned with ethical judgements as with factual ones, and rejects the absolutizing division between them that is commonly employed. Ethical judgements can be more adequate (and thus incrementally objective) if they avoid absolutisations and build on experience. There are thus no ultimately right ethical rules, but some judgements are better than others. We can improve our ethical judgements in practice through awareness of the range of alternative ethical approaches, selecting those that avoid absolutisation and positively offer an ethical 'stretch' that we can experience within the judgement of a particular situation.
For more detailed information see the other pages under the 'Middle Way Philosophy' header on this site, and/or Middle Way Philosophy books
Robert M. Ellis, 2015