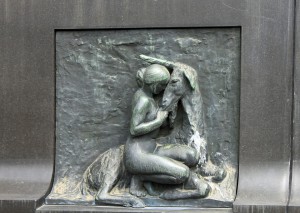 This is the animal that never was.
Not knowing that, they loved it anyway;
its bearing, its stride, its high, clear whinny,
right down to the still light of its gaze.
It never was. And yet such was their love
the beast arose, where they had cleared the space;
and in the stable of its nothingness
it shook its white mane out and stamped its hoof.
And so they fed it, not with hay or corn
but with the chance that it might come to pass.
All this gave the creature such a power
its brow put out a horn; one single horn.
It grew inside a young girl's looking glass,
then one day walked out and passed into her.
Image courtesy of Wikimedia Commons.
This weeks poem was suggested by Robert M. Ellis. If you would like to suggest a poem for inclusion in this series then please email Richard Flanagan at richard@middlewaysociety.org.