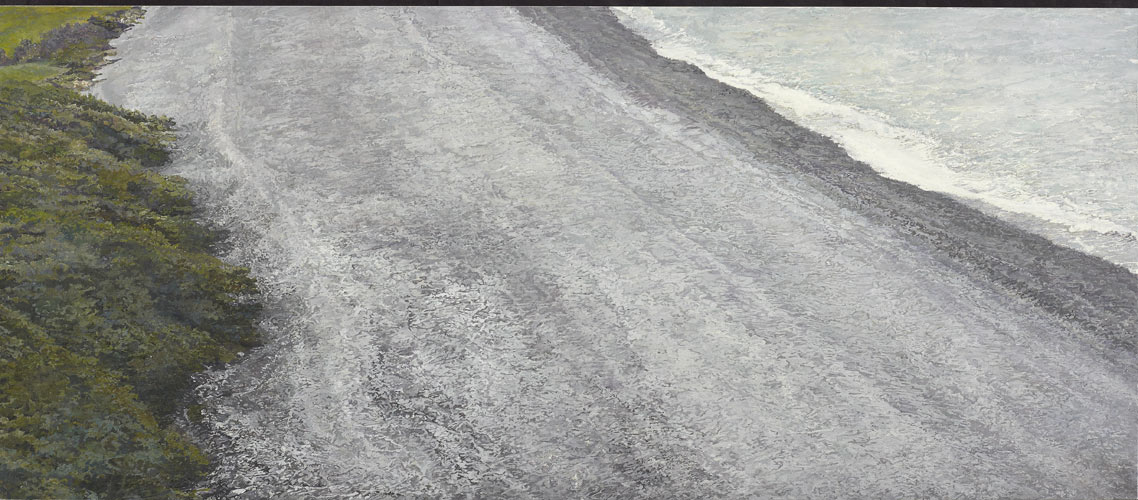 I came across the work of Therese Oulton recently when looking for a post WW2 British female painter, she was born in 1953 in Shrewsbury, Shropshire, studied at St. Martin's School of Art and the Royal College of Art having begun her studies as a student of anthropology. Oulton lives in London, she did spend a year in Vienna, in 1987 she was nominated for the Turner Prize. Oulton was not keen to join any group and I do not think she would want to be categorised as one of the YBAs, the young British painters, to quote her she wrote 'I lead an extremely isolated existence.' It is said that not many women choose to paint landscapes, perhaps not, although I like to paint landscapes, Oulton has been described as a 'Neo-Expressionist' known for her abstract work, also landscapes – in a fairly abstract way.
On discussing Surfaces, not Underneaths Germaine Greer writes, 'Not many women use landscapes as subjects but for Oulton they are an inspiration and rescue painting from male domination' she added 'Oulton makes us believe her reverence has extended to every single, irreplaceable pebble on the beach, she shows a familiar landscape, yet strange, the opposite of conceptual, as though she is shaking out the map of memory til it becomes a dynamic interweaving of sacred grass such as spinifex (an Australian grass) on rocks' – an extract from an article in the Guardian in 2009, the method echoes the way Australian aborigine women paint.
This painting is painted with oils on aluminium I think, this means that the oil remains on the surface and is not absorbed as with canvas, colours are applied smoothly and can be blended, once the paint dries another coat can be laid on top. The final work will be lightly varnished to prevent scratching. We see the view from above, not directly above but as though we are gliding at an angle to the ground, as if 'we hang in space'. It is easy to imagine the scene going beyond the frame as if into the far distance. I prefer large spaces, empty skies broken up with white clouds and distant horizons, more than mountainous scenes although I also find them awe inspiring. Standing on the shore line looking out to sea is one of my favourite occupations. Often I watch people on the beach, they seem to choose to walk along the edge of the solid ground within inches of the lapping waves. I have stood at the foot of mountains near Delphi, in valleys in the beautiful Lake District and the highlands of Scotland but big skies that we can see in areas like Norfolk give me the most enjoyment. Flying along the shore line of north Devon with one of my sons in his microlite (winged motor bike) was a thrill, looking down at the sea which looked like liquid mercury, rather similar to Therese Oulton's depiction in this painting,
I wish I could see the work as an original because prints do not convey the depth of paint, the texture and the correct colouring, it is said that she uses a 'delicate and virtuoso technique that amounts to contemplative practice' her paintings are small in size but are crammed with detail. Much of her most recent work uses repeated motifs, rather like film strips, her work is widely collected, galleries in London exhibit her work, I would like to see them one day.
Information provided by wikipedia.