The Middle Way as understood by the Society is a principle that can help us make better judgements. It is not a truth about the universe, and it is not the property of the Buddhist tradition. Rather the Middle Way is an effective way of facing up to conditions, that could be discovered to varying degrees by anyone in any context. The man known as the Buddha (Siddhartha Gautama), who lived in India about 2500 years ago, provides what is probably the clearest articulation of it, but it can also be found articulated to varying extents by many other people.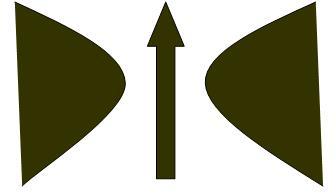 The central idea of the Middle Way is that we understand conditions in the world or in ourselves better by relying on experience, but our learning from experience is often blocked by fixed beliefs. These fixed beliefs are known as metaphysical beliefs, which the Middle Way suggests that we should avoid. An image that might help one see how this works is that of a ship sailing through a narrow passage between dangerous rocks. The ship needs to get through the strait whilst avoiding the rocks on either side, and we don't have to know where the ship is ultimately going to be clear about that . Here the rocks represent the metaphysical beliefs. If you make it through the strait you might get a slightly clearer view of where to go next, but if you strike the rocks you will be stuck, and not even get that far.
Metaphysical beliefs have the following features:
absolute justification (e.g. appeals to God, ultimate reality, 'nature', or their denial)
must be accepted as true or false rather than incrementally judged by experience
provide an illusory sense of infallibility
assume a representational meaning rather than an embodied meaning
dualistically opposed to their opposites
gain their authority from association with a group
Religious beliefs that appeal to some source of revelation (e.g. God's word, the Buddha's enlightened experience) are obvious examples of metaphysics, but there are many other less obvious ones in our everyday lives: for example, a fixed idea about one's self and its identity, a belief in absolute freewill, a belief in determinism, or a belief that science has discovered 'laws of nature' that tell us how the universe ultimately is. Errors in personal and political judgement, and even criminal actions, can all be traced to the effect of such beliefs. 'Natural' beliefs are no better than 'supernatural' ones – if you really think that the 'natural' is how things ultimately are -, because it is the fixedness and apparent unassailability of a belief that makes it metaphysical, rather than its content.
The Middle Way provides a way forward in all kinds of judgements, whether scientific, moral or aesthetic. Its key insight is one that joins psychology to philosophy: that there are certain types of views that can only be held in a state that involves psychological rigidity, and thus are not well justified in a wider philosophical perspective. This insight can be supported using a variety of recent academic advances:
the work on embodied meaning of George Lakoff and Mark Johnson, which shows that the very assumptions about meaning on which metaphysical thinking is built are mistaken
the understanding of the specialised functions of the two halves of the brain developed by Iain McGilchrist, which shows how the left hemisphere of the brain is responsible for metaphysical thinking
much recent work on cognitive biases, for example by Daniel Kahnemann, which shows that many of the mistakes we make in judgement can be understood as applications of metaphysical thinking
the development of complexity theory, which shows ways of adapting to complex and unpredictable conditions in a system which take into account the limitations of our model of that system rather than assuming we have a complete (i.e. metaphysical) model
The ways in which these insights come together needs much further exploration and discussion.
However, even if you are not particularly interested in this academic exploration, the Middle Way provides a practical way forward beyond the limitations of religious and secular styles of thinking. It offers a profound challenge to modern relativism, because it gives us a way of seeing how one judgement can be better than another, not by making claims that go beyond experience but, on the contrary, by avoiding them. There are many practices we may see some value in already, such as meditation, psychotherapy, the arts, or critical thinking, that the Middle Way can give a clear context of justification to beyond either medical 'cures' or religious transcendence. If we do these practices motivated by the Middle Way, we may also find that we do them differently, because we recognise that balancing our perspectives is at the heart of what makes them effective in addressing conditions.
Links to further pages on the Middle Way:
Video introduction to Middle Way Philosophy
Madhyamika Buddhism (Middle Way in Mahayana Buddhism)
Middle Way for scientific naturalists